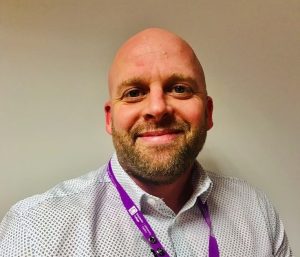 When did you join DN Colleges?
2003 I joined North Lindsey College. I was a student apprentice bricklayer at North Lindsey College. I then went on to work in industry but later I wanted to offer my services for evening classes to help the college teach and develop upcoming bricklayers.
Why did you decide to make the move from industry to teaching?
I wanted to give something back and help and develop the local community and upskill local people through night classes. I wanted to make a difference and watch people develop.
The college was happy with my services and offered me a day a week teaching from site. Which then progressed from 1 day a week to a full-time teaching post I got full support with my teaching qualification. I obtained level 3 certificate and then moved on to level 5corticate in education. My career has seen me achieve 30 grade 1 from management observations and Ofsted.
My career has now taken me from an apprentice bricklayer to a Curriculum Lead in Construction for the area where I am responsible for the development and growth of the construction department. I oversee 20 members of teaching/support staff.
What does a typical day to day involve?
Making sure lessons and classes are covered by construction staff members, students are attending the timetable sessions. Material and equipment and resources are available to deliver the required lessons
The biggest part of my day is ensuring that all students are fully supported and enjoying and achieving there chosen trade area.
What do you enjoy most about your role?
Seeing people development and supporting them through the full cycle. Using my knowledge to share with others.
What is your proudest and most rewarding moment?
Is achieving a distinction in HNC Construction and Project Management.
I have had apprentices that have since gone on and set up their own business which I believe I played a significant part in their journey.
What would you say to other people looking at a career in teaching who have come from industry?
Just go for it, its fun rewarding and having the ability to give back is the best feeling in the world.
We can support you with teaching qualifications and will support you through your journey.